Social network
Follow us
In order to receive by email announcements of the events and last publications, write to event@irasec.com to add your email address to the mailing list.
You can also follow us with Facebook and Twitter, watch the past events on Youtube and read the books on OpenEdition Books.
March 26, 2017
New release
L'Asie du Sud-Est 2021
Dirigé par Christine Cabasset et Claire Thi-Liên Tran
Irasec et Les Indes Savantes, Paris, avril 2021, 476 p.
ISBN : 978-2-84654-570-9
Voir la fiche complète / Lire un extrait / Abstracts
Chaque année, l'Institut de recherche sur l'Asie du Sud-Est contemporaine (IRASEC), mobilise une vingtaine de chercheurs et d'experts pour décrypter l'actualité régionale.
April 7, 2021
Media
La situation énergétique de la Birmanie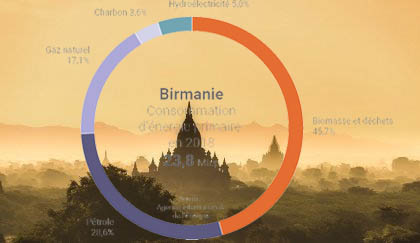 Entrevue d'Éric MOTTET avec Maël Dancette, « La situation énergétique de la Birmanie en quelques chiffres clés » pour connaissancedesenergies.org, le 2 février 2021.
February 2, 2021
Seminar
ASEAN-China-Norms
1 & 8 April 2021 (Thursday)
16:00 – 18:00 (Singapore time) / 10:00 – 12:00 (Paris time)
We are pleased to inform you of the participation of Adèle ESPOSITO ANDUJAR, Éric FRÉCON and Jimmy STEF to the seminar organised by The French National Centre for Scientific Research (CNRS) and the East Asian Institute, National University of Singapore.
Download the programme / Registration link
March 30, 2021
Conference
Sustainable Development: watch again the events

The satellite events of the Asia Pacific Forum on Sustainable Development (APFSD) by the French and Japanese Embassies in Thailand in association with ESCAP, can be reviewed at :
. « Black Carbon: The Dark Side of Human Activity »
. « Leaking Cities in South-East Asia: Marine Plastic Pollution »
. « eLearning: Integrated action on Biodiversity/ Ecosystems, Health and Climate »
For more information on these events.
March 29, 2021
Bourse
Bourse de terrain Irasec
Extension de la date limite de candidature, 15 avril 2021
L'Irasec met à concours chaque année deux bourses d'aide à la recherche sur le terrain de 3 000 Euros chacune. Ces bourses s'adressent à des doctorant.e.s français ou étrangers (inscrits dans une université française) poursuivant des recherches sur l'un des pays ou la région Asie du Sud-Est contemporaine dans les champs disciplinaires suivants : sciences politique, sciences économiques, sciences sociales (anthropologie, droit, géographie, histoire contemporaine, sociologie).
March 29, 2021
documentary film
Tellurian Drama
Christine CABASSET took part in the discussion about the film Tellurian Drama (2020) directed by the Indonesian filmmaker Riar Rizaldi, as part of the international documentary film festival Cinéma du Réel with which the Bibliothèque universitaire des langues et civilisations (BULAC) is associated (12 to 21 March 2021). The film takes place in the mountains of West Java…
March 24, 2021
Article
Vietnam, un Tết sous surveillance
Emmanuelle PEYVEL vient de faire paraître un texte sur le covid au Vietnam dans la revue de géographie Mappemonde : "Vietnam, un Tết sous surveillance".
Il est sorti dans la rubrique "images", qui a comme objectif de s'inscrire dans l'actualité avec une iconographie variée.
March 24, 2021